We do this ride frequently around here. It is a great way to see some of the iconic sights of Los Angeles, and starting early ensures minimal traffic. The climb up to the top of Mulholland is challenging, but once up there it is miles and miles of rolling terrain with great views of Hollywood, the Hollywood sign, Universal Studios, the San Fernando Valley and all of the beautiful homes along Mulholland.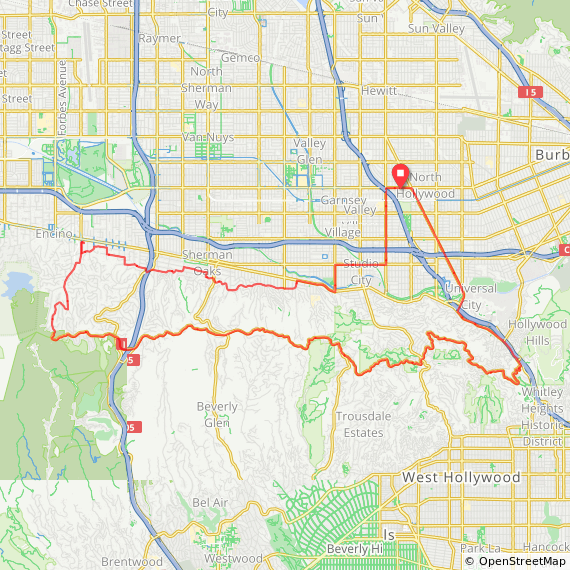 The ride starts with a quick trip down Lankershim and up Cahuenga. The climb up Mulholland starts at its east-most end in Universal City. Only a half mile or so up, look to your left to see the Hollywood sign. Another .5 miles and there is a great turn off to the left to see spectacular views of Hollywood.
Another mile or so up the climb (basically at the top), you will encounter lots of people heading towards Runyan Canyon. Runyan has great hiking and is one of the few off-leash dog parks in LA. The ride continues along, with the views of the San Fernando Valley starting shortly. You can look down to Universal Studios with ease. Look a little farther and you might notice the unmistakable Ikea in Burbank. It is so large and blue, it is hard to miss!
As you cross Mulholland along Coldwater Canyon, don't miss the left turn back onto Mulholland. TreePeople, a great area for hiking and learning about our SoCal environment, is located on the right at the intersection.
As you continue further west, you will start to notice the beautiful mansions on either side of Mulholland that are home to many famous actors and sports legends. Zoom down past the American Jewish University and across the 405 freeway, noting that you are NOT stuck in the traffic down there. The final push along Mulholland takes you up to the beginning of dirt Mulholland, with miles and miles of off-road cycling (for another day).
Bombing down Encino Hills drops you at Gelsons for a tasty break at their bakery. The rest of the ride gets you back across the Valley to the start via the recently repaved Valley Vista Blvd.